ETC Brand Spot Blue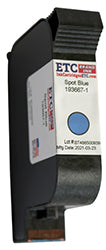 ETC Brand Spot Blue is a water-based dye ink specially formulated by us for mail printing and packaging applications. Prints on a wide range of uncoated and lightly coated stock. Produces a dark blue image with good definition and smooth color distribution. Very fast unassisted dry time. Up to 75 minutes decap.
Benefits
- Produces dense blue image.
- Very fast unassisted dry time
- Close match to PMS 3005U
- Up to 600 dpi resolution
This is NOT a refilled product.